Introduction

If you met me on the street, you would probably think I am a relatively normal person. However, in the interests of full disclosure I must report that I suffer from an incurable genetic sickness: a lust for neat cars.

A few years ago I had 6 cars, now only one. I think I'm in a temporary remission. I'm not a car dealer, although my father was a very good one. And while that in itself does not prove that I am suffering from a genetic disorder, I invite you to read on...

There is a basic principle that governs the "Car Nut" (as we are known to the medical profession): "The number of cars owned will expand to fill the space and budget available". This is McCafferty's First Law. A perfect example is junk yards.

My fantasy home in the desert had lots of space. A four car fantasy garage and an airplane hangar. When I lived there full time I had six cars. Now that I'm living on the coast I'm down to 1 car, simply because I have only one parking space.

My kind of Car Nut disorder is particularly pernicious. I lust after exotics. I am relentlessly driven to own and/or drive the most extraordinary of automobiles.

Pictured above are the cars of the Mikie's Fun House #2 era. In the foreground is the 1959 Scaglietti Corvette (V8), then the white 1992 Mitsubishi 3000 GT-VR4 Twin Turbo (V6) (my daily driver 1992-1996, a fantastic road car!), followed by the blue and white striped '96 Viper GTS (V10), and last in line is the 1967 Ferrari 275GTB/4 (V12).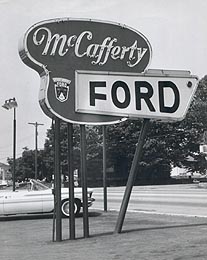 The Early Years

I grew up with this car sickness. My father also suffered from it. He was a Ford dealer from 1954-1990 (?) (McCafferty Ford, Langhorne, PA) and as a kid I would love to hang out at the dealership. It was like a fantasy land to me. All the different cars, the tools, the lifts, the mechanics, the grease and oil and gas, the bodywork, the salesmen with fat wads of cash in their pockets, the sounds and smells and sights.

Yeah, I would have to blame it on my father. He would take me to places like the Indy 500, or Watkins Glen to watch the races, and tell me stories of legends like Barney Oldfield, Nuvolari, and so many more.

I would love it the best when the Ford Racing team did their pre-race preparation in the secret service bays of my father's dealership, just before taking the finished cars over to the race track next door (the Langhorne Speedway, now gone). There I could meet and shake hands with greats like Fireball Roberts, and Tiny Lund while wandering around in a maze of high performance tires and engines. Christmas couldn't have been better!

It wasn't just limited to race cars and Fords, because Dad brought neat stuff home all the time, one of the advantages of having a car dealership. He had some totally awesome rides that I remember: a drop dead gorgeous black Jaguar XK-150s roadster (Click here to read that great story!), a Pantera, MG-TF, and even one day he brought home a 1/4 midget dirt track car.

Mostly, he would bring home a Ford, either a neighbor-customer's car in for service, or a demo unit, or maybe an interesting used car. It was always something to look forward to, especially in autumn when the new models came out.

My first car was a 1950 Ford 4-door, mostly rusted out, only 150 bucks. Although it was my first car, I never really had much of a love affair with it. It was just plain butt ugly. Late one night I had driven it off road to go ice skating at a nearby lake. When I went to start it up later, it was totally dead. I walked to a phone and called my father and asked if he had any suggestions. He said "Do you have a match?" When I said yes, his short answer left no room for misunderstanding: "Burn it!" I should have done it, of course, just to have fun with him, but I needed the transportation, so I figured out how to get it started on my own, which was probably what he was telling me, in a roundabout Dad kind of way.

I drove it for maybe a year, until my license was suspended for a couple of months. So I took the engine apart to see how it worked. Never got it back together, figured it was better to buy another car for a hundred bucks than to put the first one in running condition. I owned only one other 4-door car.

The next one was "Blue Cloud", a light blue '50 Chevy coupe with Powerglide (automatic) transmission. It had a great back seat, a very desirable feature for cars of my early years.

One of my favorites was a 1948 Ford coupe. It looked like it was painted with a broom, in a dust storm, by a drunk on a motorcycle. Work with me, I'm trying to draw a picture here. Anyway, it was a lot of fun to drive, partly because it made a lot of noise with it's flathead V-8 and blown out muffler.

One of my more unforgettable cars wasn't even mine. I was just borrowing it for the day from my father, who was getting some work done on it for his mother. But this was no ordinary grandmotherly car. This one was a 1956 Ford, all white and with a black racing stripe running across the hood, over the roof and down the trunk. You don't see too many grandmothers driving cars with racing stripes, especially in those days. She complained to him that she was always having trouble finding her car in shopping center parking lots, because a white 56 Ford was rather common. So he took her car and had it striped. And she liked it! I love that story.

Anyway, here I am driving this racy looking 56 Ford, I'm right out in front of High School, everybody is hanging out front, catching a smoke before class starts, and I'm cruising down the street, trying to find the ashtray in this unfamiliar car, and when I look up there is a car stopped dead in front of me and I have no place to go. I can still see the hood of my grandmother's car crumpling up in slow motion, and remember my face being slammed into the wheel. And the sound of the crash: as the guy I hit was pushed into the guy in front of him, and that guy was pushed into the next one, etc. There were five wrecked cars right in front of high school, and that McCafferty kid, that constant troublemaker, was at the root of it. Injuries were slight, I got the worst of it, and it wasn't that bad. Those were the days before frivolous lawsuits, or else I would still be paying for whiplash claims.

"GoldenRod" came next, a '54 Mercury hardtop, yellow with black roof, rolled and pleated yellow and black imitation leather interior, and continental kit for the spare. Mellow glass pack dual exhausts. Automatic. That car would cruise forever. Drove it 22 hours non-stop (except for refueling) from the Mason Dixon line to Ft. Lauderdale Florida for Spring Break, with 5 other guys along for the ride to help pay for gas.

Another college car was the "Green Giant", a 1957 Ford Fairlane with a police interceptor engine, stick shift, and looking very mild in green and white paint. It made many high speed runs between the local girls-only colleges and my guys-only college hidden out in the foothills of the Blue Ridge mountains in the panhandle of Maryland.

To celebrate the miracle of my graduation from college, my father presented me with a poppy red '64 Mustang, a 3 speed, six cylinder coupe. I drove it for about a year and traded it in on one with a lot more power: a 1965 Mustang GT Hi-Performance convertible. I drove that car for two years, all over the states of Maryland, West Virginia, Pennsylvania, and Virginia, doing my duty as an IBM sales rep selling computers in Appalachia (and I actually sold a bunch of 'em!). Many weekends, I raced the car in SCCA rallies and autocrosses.