The Life and Times of
Charles F. McCafferty, Sr.
August 19, 1915 - March 27, 2008

---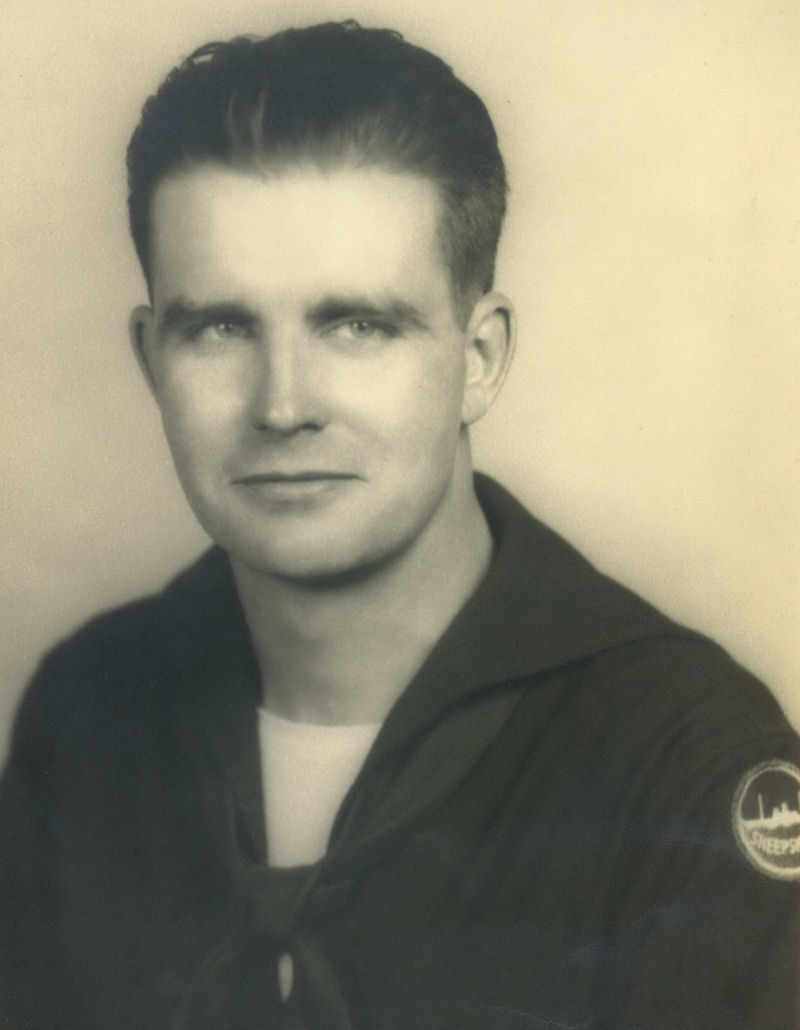 Charles F. McCafferty, fresh out of the U.S. Maritime Training Base at Sheepshead Bay, NY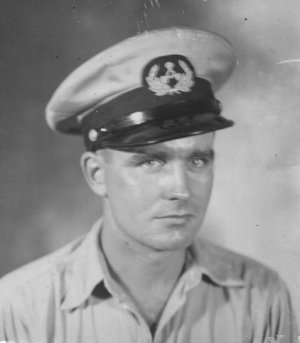 WWII, 1943, in Aruba, with the U.S. Merchant Marine


---
Invictus


Out of the night that covers me,
Black as the Pit from pole to pole,
I thank whatever gods may be
For my unconquerable soul.

In the fell clutch of circumstance
I have not winced nor cried aloud.
Under the bludgeonings of chance
My head is bloody, but unbowed.

Beyond this place of wrath and tears
Looms but the Horror of the shade,
And yet the menace of the years
Finds, and shall find, me unafraid.

It matters not how strait the gate,
How charged with punishments the scroll,
I am the master of my fate:
I am the captain of my soul.

William Ernest Henley

His favorite poem, speaks volumes about the man.
Best read as he would, with gritted teeth and a deep bass voice,
standing in defiance, and total conviction that he is "The Man".
It is buried with him at his right hand.

---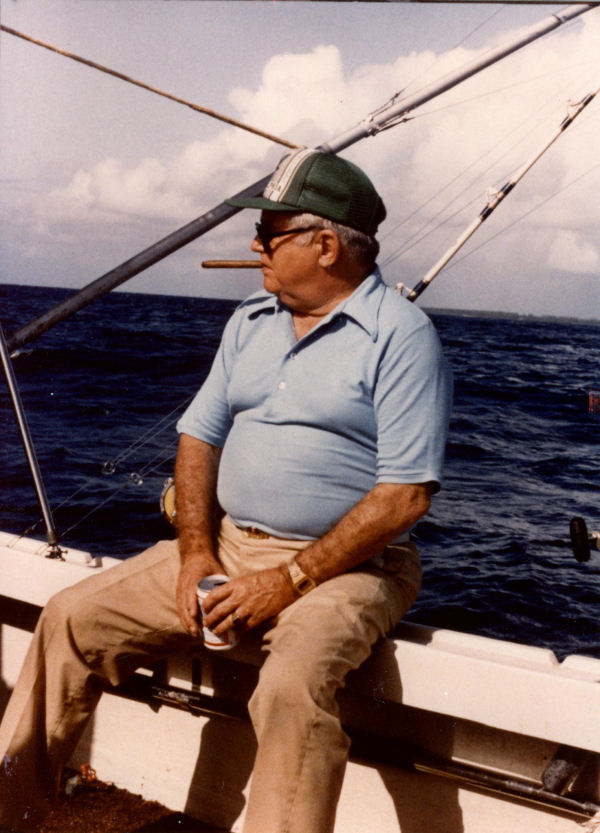 On The Boat, Chesapeake Bay



---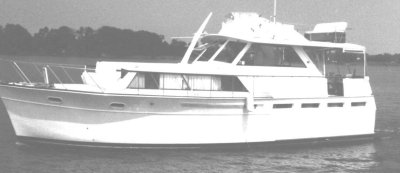 The call to be "on the water" was strong.

Come aboard the "Granada",
a 47' Pacemaker Motor Yacht with twin Detroit 671 Diesel engines,
family boat during the Seventies,
and generally considered by all to be
the "prettiest boat on the Chesapeake Bay".

Before the "Granada" he owned the 38' Viking "Galaxy".
Most recently, the 30' "Escort".
Other notable boats include the "Mar-J"
a 30' cabin cruiser operating out of the Neshaminy Creek,
and the "Restless", a 21' sloop rigged sailboat with a centerboard
and a tiny single cylinder gas engine.
Often, the "Restless" was referred to, with a smile, as the "Helpless" or the "Hopeless".

Other boats included the "Florida" and the "DamnIfIKnow".
During his service in the US Merchant Marine, he sailed aboard
the "Chief Osceola", the "Florida", and the "Ticonderoga".

---
War Stories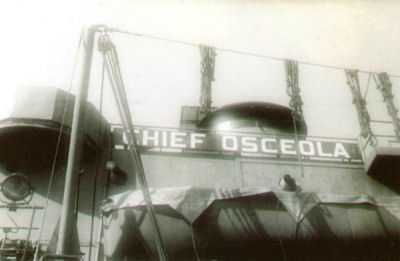 The Liberty Ship "Chief Osceola", photo by shipmate Navy Signalman George Crosby, on the voyage to Odessa, Ukraine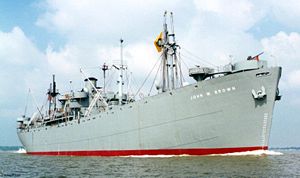 Typical Liberty ship.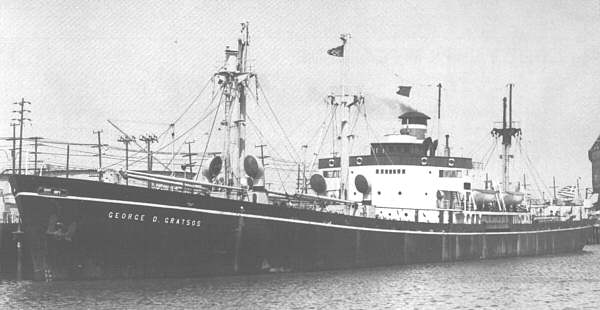 Last known photo of the Liberty Ship "Chief Osceola", shown here in post-war trim, and renamed.
Built in Florida, named after the Seminole Indian war chief.
Hull #2322 was laid down on 28 August 1944, launched 4 October 1944.
Sold to Greek shipping company Gratsos in 1947, run aground, wrecked in Chile in 1965, scrapped 1967.


(notes from a phone conversation with son Mike, 12/21/2007)
During WWII, Dad served in the U.S. Merchant Marine.

After preliminary training at the
US Maritime Service Training Station at Sheepshead Bay, NY,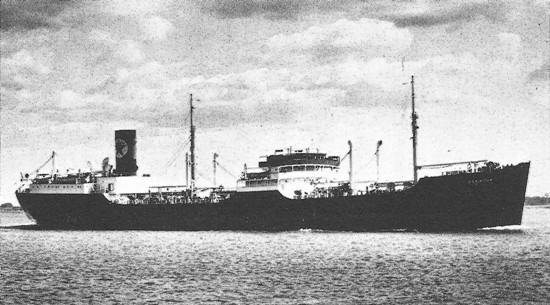 Dad served on ships hauling fuel oil
from Houston to Maine and from Brazil to Aruba.
The "Florida" was one notable ship.
The wartime history of this ship, owned by Texaco, shows that it was
sunk in Brazil by a German U-boat (all survived!) in May 1943,
then repaired in Chester, PA.

Dad was probably on the first cruise of the Florida after it was rebuilt.
Among family records is Dad's "Seaman's Allotment Note" sending $85 a month back home
to Mom, and the Allotment Note clearly shows that he was aboard the Florida on June 25, 1944.
Allied Ships hit by U-boats.


In one very ironic twist to this story,
the commander (Oskar Kusch)of the German U-boat that sunk the Florida
was later found to have "anti-Hitler" views, and was executed on 12 May 1944
which is right about the time that Dad would have been signing up
for his cruise on board the rebuilt Florida.
See this link for info on the U-154.

On August 4, 1944, he "crossed the line" (the Equator) probably for the first time
aboard the Florida, and in a document was named a "trusty Shellback" and initiated into the
"solemn mysteries of the Ancient order of the Deep"
Click here for the document.

At the end of the war, he was aboard the Liberty Ship "Chief Osceola",
under the command of Captain John Andrews, Greenwich, CT
delivering high explosives on a trip to Odessa, Ukraine...

In the Mediterranean, they stopped in Gibraltar, as planned, then given orders to make an unscheduled stop at Oran, Algeria. When the Vichy French surrendered to the Germans, French ships were ordered to Oran, and scuttled in the harbor so the Allies couldn't get them. It was very dark when he arrived in the harbor, and all he could see were the masts of the sunken ships sticking out of the water.

He left the ship to find a drink in town, and barely found a place when he was arrested and put in jail, for being the wrong religion.

Later, on that same voyage, in Odessa, Ukraine, at the Hotel Londonskya, it was VE day, he was drinking with 6 Russian generals, 3 on each side, doing vodka and caviar. Hitler committed suicide on Sunday morning. It was madness, everyone drinking, having a party. He lost track of time, missed his shift on board. When the party was over, he had to get back to the ship. Curfew was at sunset. It was dark out, walking back to the ship, through the park, the Russian guards spotted him. "Stoy" (hold).... "Amerikanski" and took him to NKVD headquarters, wanted to know why he was out after dark, told them he was partying. They finally believed him, sent him on his way...

Back at the ship, the chief engineer wanted to kill him. He had lost his steam, lost his water... Down in the engine room there was a tiny, tiny pump. Need to get water in the boilers, then pump oil, put rags into the fire pit, soaked with oil, start fire, to get the steam, takes about an hour and a half to get it going.

They were the last ship out of the harbor, had 1500 tons of explosives on board, didn't want explosion during unloading.

Then, home again, through the Black Sea, the Mediterranean, Gibraltar, then across the Atlantic, about a 3 week trip, to Philly, where he went direct to the union hall to get another ship.

(for some additional perspective,
click here for another story from aboard the "Chief Osceola" on that very same trip to Odessa,
written by Dad's shipmate, Navy signalman George Crosby)

On board ship he was advised that when they were under attack, he should put on his life preserver. But since he was working between two 500psi boilers, and on the other side of a wall from tons of high explosives, he said he would need a parachute before he ever needed a life preserver!

He was assigned to the ship "Ticonderoga" when Japan surrendered and the war ended, August 15, 1945. As it happened, the ship was in port in Philadelphia. He was told the next voyage would be 3 months in the South Pacific (Ulithi?), so he went to the captain and said
"I quit... I told my wife I would quit the day the war was over."
It was only 4 more days until his birthday (#30), and the day after Mom's birthday, so there was good reason for much celebrating...




The US Merchant Marine suffered the highest casualty rate of all the services:

Comparison of Casualties:

1 in 26 Mariners killed
1 in 34 Marine Corps killed
1 in 48 Army killed
1 in 114 Navy killed
1 in 421 Coast Guard killed





As of 2008, there are only two Liberty ships operational:

S.S. Jeremiah O'Brien, Fisherman's Wharf, San Francisco, CA, and
S.S. John W. Brown, Baltimore, MD


A third vessel, the S.S. Red Oak Victory is being restored in Richmond, CA





The Song of The U.S. Maritime Service
The Song of the Merchant Marine

Heave Ho! My Lads! Heave Ho!

VERSE
Give us the oil, give us the gas
Give us the shells, give us the guns.
We'll be the ones to see them thru.

Give us the tanks, give us the planes.
Give us the parts, give us a ship.
Give us a hip hoo-ray!
And we'll be on our way.

CHORUS
Heave Ho! My Lads, Heave Ho!
It's a long, long way to go.
It's a long, long pull with our hatches full,
Braving the wind, braving the sea,
Fighting the treacherous foe;
Heave Ho! My lads, Heave Ho!

Let the sea roll high or low,
We can cross any ocean, sail any river.
Give us the goods and we'll deliver,
Damn the submarine!
We're the men of the Merchant Marine!

© Leeds Music Corporation
Words and Music by Lt.(jg) Jack Lawrence, USMS, 1943